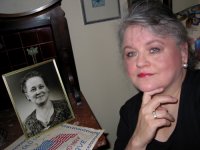 It all began with my Grandmother, Anna Berish. She was a hard working European immigrant who taught me to have pride in anything I do and to do it using the best materials I could afford.
In the photo is a picture of my Grandmother and the first piece of needlework I did at the age of 3. It was a stamped cross stitch of the American flag. I lived with my Grandparents in my early years spending my days with her while she worked at the family business and my Grandfather tended the garden and chickens. I can still remember her helping me with my stitches on that sampler. It hung proudly in the main room of the café for years. I was able to acquire the sampler and the photo of her which are 2 of my most prized possessions.
She taught me several forms of needlework which became an ongoing connection to her, even after she died when I was 13. My love of needlework became a source of artistic expression which saw me through many difficult periods in my life. Every time I pick up a needle, I feel my Grandmother smile down on me.
Needlepoint has been one of my favorite forms of the needle arts. In the mid 70's I began designing needlepoint. My specialty was silk gauze. I became well known in the miniature field with my work on 40 to 84 count silk gauze. My work appeared in many publications during that period and in the early 80's, I was selected to be a subject in the book, Masters in Miniature, 12 Artists at Work.
Most of that work is in private collections and several museums including the Carnegie in Pittsburgh, Pennsylvania and the Toy & Miniature Museum in Kansas City, Missouri. I have been privileged to lecture at the Cooper Hewitt in New York City, the exhibit at the National Geographic Gallery in Washington DC, the Museum of the City of New York, Allentown Art Museum, Pennsbury Manor in Pennsylvania and the Flagler in Florida. My miniature silk gauze needlepoint has traveled in exhibits world wide.
Back in 1991 I needed a new challenge. I picked up a paint brush for the first time in my life, dipped the fuzzy end into paint and began designing hand painted needlepoint and never looked back. I never had any formal art training. My college years at Penn State earned me a degree in Food Service and Housing Administration. Gourmet cooking is my second love.
I enjoy painting in realistic style and love to paint everyday functional objects from various collectibles to architecture and even bras! Teaching is also part of what I do. I love to share my techniques with needlepointers.
Share the knowledge with someone. You never know how much a simple needle and thread will change a life.
---